Custom Soccer Balls with Your Club's logo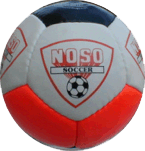 Looking for a unique fundraising idea? Our custom-made sporting goods such as soccer balls, volleyballs, basketballs, and footballs make great products for your next fundraising campaign. Since our products can be customized and be imprinted with your organization or soccer club logo, they appeal more to people supporting your organization.
If you are a member of a soccer organization then you can consider using our mini soccer balls as a fundraising product. There is a decent profit margin and colorful mini balls with your soccer club logo will sell a lot quicker as compared to other products. People supporting your soccer club will be definitely interested in purchasing mini soccer balls with your club's logo to keep in their office or at home. The balls can be sold at sporting events for your school or club.
   
Interested? Here is our recommendation on getting started on your fundraising campaign.
Create a list of products from our website which you think will be suitable for your fundraiser. Then email us with the following information at info@bestsoccerbuys.com.
1. The products of your interest to the fundraising campaign.
2. The number of units of each product you project to sell in your fundraiser.
3. Tell us if you would like customized or non-customized products.
Our representative will contact you to let you know the total cost of the products and delivery timeframe. Once everything is finalized then you can start taking orders based on your own price list. Once you feel you have enough orders then you can notify us to ship the products to you so you can make the deliveries to your customers.
Please feel free to drop us an email if you have any questions related to fundraising at fundraising@bestsoccerbuys.com.